Vancouver
(Canada)
General Motors Place
Aftershow
Setlist
01. City of Blinding Lights
02. Vertigo
03. Elevation
04. The Electric Co
05. An Cat Dubh
06. Into The Heart
07. Beautiful Day
08. New Year's Day
09. Miracle Drug
10. Sometimes You Can't Make It On Your Own
11. Love and Peace or Else
12. Sunday Bloody Sunday
13. Bullet the Blue Sky
14. Running To Stand Still
15. Pride (In The Name Of Love)
16. Where The Streets Have No Name
17. One
18. Zoo Station
19. The Fly
20. Mysterious Ways
21. All Because Of You
22. Yahweh
23. 40
A propos
– Chose rare depuis le début de la tournée, U2 a débuté ses deux concerts de Vancouver par « City Of Blinding Lights ». Ce n'était plus arrivé depuis San Diego, fin mars.
– Le concert fut filmé, apparemment en guise de répétition générale avant les concerts de Chicago qui pourraient faire l'objet d'un DVD.

Vertigo Tour - Leg 1 - Amérique du Nord
Première partie : Kings of Leon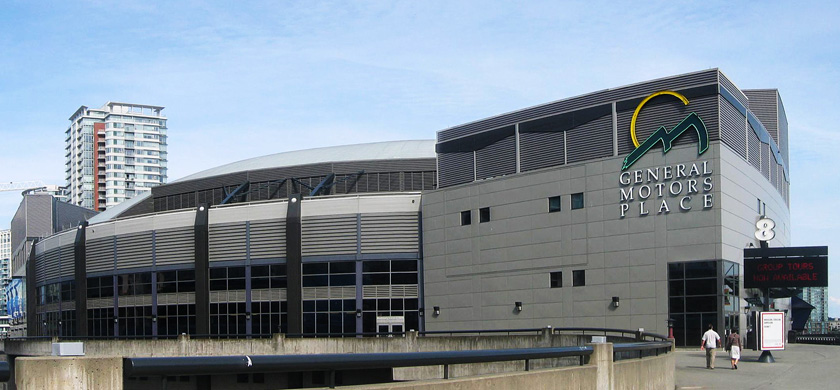 General Motors Place
La GM Place a été conçue pour recevoir des matches des Vancouvers Canucks (NHL) et des Vancouvers Grizzlies (NBA, aujourd'hui partis à Memphis). Ce complexe peut accueillir différents événements : tournois de tennis, matches de boxe, concerts, expositions, etc. C'est dans cette salle qu'ont eu lieu les répétitions du Vertigo Tour en mars 2005.
Date d'ouverture : 1995
Capacité pour les concerts : 20 000 places
Site web : http://www.gmplace.com
U2 a joué à la GM Place de Vancouver le 13 avril 2001 lors du leg 1 de l'Elevation Tour. En 1992 pour le Zoo TV Tour, c'est au PNE Coliseum que U2 avait fait escale (23 avril).
Lors des tournées en stades, U2 s'est produit à plusieurs reprises au BC Place Stadium de Vancouver (12 novembre 1987, 3-4 novembre 1992, et 9 décembre 1997).